The PCCC School Holiday Program provides a great range of planned activities and excursions for School aged children 5 to 12 running Monday – Wednesday at the Centre in Foster.  Families can use the whole program or just days of their choosing.
Please click on the links below to view the great range of activities planned for the upcoming January School Holidays. The kids will be kept busy and having fun all day long!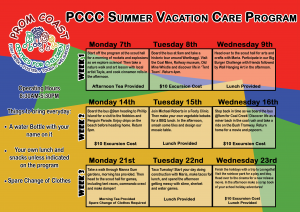 BOOKING SHEET
2019 Summer Vacation Care Booking Agreement
The full day fee is $70, however the out of pocket expense can be significantly reduced through Child Care Benefit Rebate Payments (most cases over 50%). Excursions will incur an additional $10 per day to assist in covering bus costs.
To secure your place in the program please complete the Booking Agreement and submit to Tracy at the Centres' Office in Foster via email: admin@pccc.net.au or drop the form off at the Centre.